Start A New IT Career With
The Best Front-End Web Development Course In Vadodara With Placement Support
The Best Project Based
Front-End Development Course In Vadodara
Front-end web development is the practice of creating the visual and interactive parts of a website that users interact with directly. With our specifically designed front-end web development course in Vadodara, you will learn how to use various tools and technologies to create attractive and functional websites that are optimized for user experience.
In a front-end web development course, you will learn HTML, CSS, and JavaScript, which are the core technologies used to create websites. You will also learn about various frameworks and libraries, such as React, Angular, and Vue, that are commonly used by front-end developers to build complex web applications.
Other skills that you might learn in a front-end web development course include responsive design, accessibility, and user experience (UX) design. You will learn how to optimize your websites for various devices, including desktops, tablets, and mobile devices. You will also learn how to create websites that are accessible to users with disabilities, and how to design websites that are intuitive and easy to use.
Overall, a front-end web development course will provide you with the skills and knowledge you need to create professional and engaging websites that are optimized for user experience.
Top Job Opportunities After
Front-End Development Course
After completing our front-end web development course, you will be qualified for various roles in the web development industry. Additionally, we are providing 100% job support with a front-end web development course. Some common job titles you may be eligible for include:
Front-End Developer: As a front-end developer, your primary responsibility is to create the user-facing parts of a website or web application. This includes writing HTML, CSS, and JavaScript code to create visually appealing and interactive web pages.
User Experience (UX) Designer: As a UX designer, your primary responsibility is to create an intuitive and engaging user experience for website or web application users. This involves understanding user needs and behavior, conducting user research, creating wireframes and prototypes, and designing the visual interface of a website.
UI Developer: As a UI developer, your primary responsibility is to develop the visual interface of a website or web application. This includes working closely with UX designers to create a visually appealing and intuitive interface that meets user needs and expectations.
Web Designer: As a web designer, your primary responsibility is to design the visual interface of a website or web application. This includes creating the overall look and feel of a website, selecting color schemes and fonts, and designing icons and other graphical elements.
Overall, your role and responsibilities after completing our project-based training program for front-end web development will depend on the specific job title you pursue. However, in general, you can expect to work on creating visually appealing and user-friendly websites or web applications, using the skills and knowledge you learned in the course.
Why Should You Join
Our Front-End Web Development Course
There are several compelling reasons to join a front-end web development course, some of which include:
In-demand skill: Front-end web development is a highly sought-after skill in today's digital age, as every organization needs a well-designed and user-friendly website. By learning front-end development, you can open up new career opportunities and increase your earning potential.
Creative outlet: Front-end development allows you to use your creativity and problem-solving skills to design and develop visually appealing and interactive websites.
Constantly evolving: The front-end development landscape is constantly evolving, with new technologies, frameworks, and tools being introduced regularly. Joining a course can help you stay up-to-date with the latest trends and developments in the industry.
Flexibility: Front-end development can be done remotely, which means you can work from anywhere and have a flexible work schedule.
Collaborative field: Front-end development involves collaborating with designers, other developers, and stakeholders to build a website that meets the requirements and goals of the project. This collaborative environment can help you develop communication and teamwork skills that are valuable in any profession.
By joining a front-end web development course, you can gain the necessary skills and knowledge to become a competent front-end developer and launch a successful career in this field.
Our top placed candidates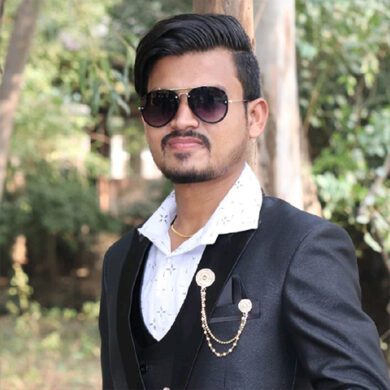 Webbrains Technologies Pvt. Ltd.
Arche Softronix India Pvt. Ltd
Webbrains Technologies Private Limited
What Makes Weltec Different
It's a good place to learn and grow. I am still learning here and l enjoy it. In Weltec teachers are very good and helpful. And ya the best thing is I got the job from here.
Sangita Prajapati
Back-End Developer
WELTEC, the top IT institute, offers job-oriented courses. Hiren Sir's guidance led me to start my IT course, transforming my career with expert mentoring. Grateful for this transformative experience!

Grateful for Weltec: Best mentors, flexible timing, supportive environment. Enhanced technical and communication skills. Placement team secured ideal IT job. Highly recommended.

Anamika Rami
Back-End Developer
I was initially unsure about IT courses due to my commerce background. I am grateful for the helpful, polite teachers and staff, who are always supportive and kind.
Vadodara's top institution, Weltec, excels with supportive faculty, excellent teaching, instant doubt resolution, valuable career advice, superb job assistance, and effective interview training. Grateful for my job.

Hi, I'm Abhishek! Completed my IT course at WELTEC. Great experience, with excellent training, and placement support. Highly recommend this institute. Worth considering!
Abhishek Singh
Data Analyst
WELTEC Institute is a very good center for the IT field. Excellent teaching staff and is very helpful any time. Thank u Hiren sir and Mehul sir for your guidance.
Weltec, the IT solution, offers experienced faculties, constant guidance, effective interview techniques, flexible schedules, and affordable courses. It shaped my IT career; discover it yourself!
Sarthak Musale
UI/UX Designer
It's an ideal IT coaching. Exceptional faculty, effective teaching, and constant support. Flexible timing, supportive environment. Life-changing institute with helpful non-teaching staff. Grateful for the education. Thank you!
Bhavisha Patel
UI/UX Designer
Prime IT Training Centre. Expert staff, proactive management. Tailored advice, consistent growth monitoring. Versatile faculty, abundant learning. Your gateway to a promising future.

Kemmy Jadav
Software Tester
Have any further Question?
How Our Training Programs Are
Different From The Rest
| | Video Courses | Bootcamps | Weltec |
| --- | --- | --- | --- |
| Real Work Experience | × | × | ✓ |
| True, Project-Based Learning | × | × | ✓ |
| Live Sessions & Mentorship | × | × | ✓ |
| Job-Ready Portfolio | × | ✓ | ✓ |
| Placement With Top Companies | × | × | ✓ |
| Preparation For Interview | ✓ | × | ✓ |
| Career Guidance | × | ✓ | ✓ |